Black Lives Matter. Period.
Black Lives Matter. Period.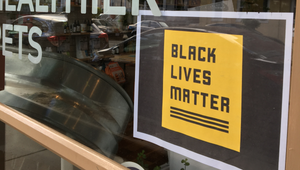 At Petwell Supply, we stand in solidarity with the Black Lives Matter movement, including those protesting against: racism, police violence, and systemic injustices impacting Black people in both our local and national communities.
I have the privilege of knowing so many of our customers on a personal level, and am inspired by and grateful for those of you protesting, donating, and contributing time and energy towards the long journey to repair social injustices to create a better, more just world for all. Seeing your involvement and commitment to the Black Lives Matter movement is another reason, on an ever growing list of reasons, I feel so grateful to be a part of both the Somerville and Petwell Supply community.
I have been carefully watching, listening, and learning over these past few weeks to understand what we, as a small local business, can do to support the Black Lives Matter movement. Those who know me understand that when I commit to something, I am all in (not unlike a dog with a bone), which is why it was so important for me to carefully assess our action plan before making an announcement. Ultimately, I want to be sure that what we commit to as a company is sustainable in the long term, and will contribute to lasting, positive change.
After careful reflection, I would like to share how we, at Petwell Supply, are committed to progressing the Black Lives Matter movement:
1) We are actively seeking Black-owned pet product businesses to support. We are scouring Etsy and various wholesalers that carry pet products, looking for Black-owned businesses from which we can purchase pet products to highlight, and have available for purchase in our store. If you become aware of Black-owned pet product brands or businesses, please let us know. This will be part of an ongoing effort on our part to create more inclusivity in the brands we carry and support in our store.
2) We will be making a concerted effort to seek out Black applicants for future job posts. In the past, we have posted open positions on various job boards like Indeed and Craigslist, and, going forward, we will make an effort to post on additional and more diverse channels, as well as find Black-majority career fairs we can recruit from.
3) Our team will be participating in a year-long mentorship program in Boston, working with young, Black-owned businesses. As someone who has been an entrepreneur for the past 7 years, I can say, without a doubt, that I would not be where I am today without the mentors I have had to help me along the way. I hope that as a team with an extensive network and combined experience and expertise in: entrepreneurship, retail, and ecommerce, that we can help support the next generation of Black entrepreneurs.
These three initiatives are a small part of a larger commitment to amplify Black-owned businesses, and become a part of a more inclusive society.
In Solidarity, 
Emily & The Petwell Supply Team