Celebrating Your Dog's Birthday Right
Celebrating Your Dog's Birthday Right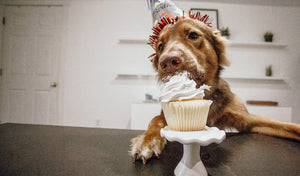 Here at Petwell Supply, we consider dogs to be members of the family, and shouldn't they celebrate their birthday in style just like the rest of us? Here are a few ways to make your best friend's special day one to bark home about!
Visit a dog-friendly restaurant: Although this activity is best suited to warm weather birthdays, many restaurants and breweries in the area allow dogs on their patios and terraces, including favorites like Bar Boulud, Area Four, and The Friendly Toast. You can check out this article in Boston Magazine for more ideas! 
Go on an adventure: Take your dog on a fun hike, or visit your local dog park. A fun, active day could be the perfect birthday gift for your furry friend. 
Give your dog a present! Treats and chew toys are always a good choice, of course, but you can also test your dog's intelligence and determination by giving them one of our puzzle toys. Puzzle toys are a fun way to give your dog a treat while also making them work a little for it.
Pamper your puppy: We offer a variety of grooming services here at Petwell Supply, so make sure your pup looks their best for their big day!
Throw your dog a party: You can invite over friends and family, as well as any dogs your pup is friends with. Just be sure to keep the number of people and dogs manageable. While you're getting ready for your party, be sure to stop in and pick up some doggie cake mix and ice cream, as well as fun party hats!
There are a variety of ways to celebrate your dog's birthday, and the way you choose to celebrate will depend a lot on your pet's specific preferences, so make sure to choose an activity your pet will enjoy! Just remember, when it comes to pet birthday celebrations, anything is paw-ssible!