Happy Dog Birthday Shopping to You!
Happy Dog Birthday Shopping to You!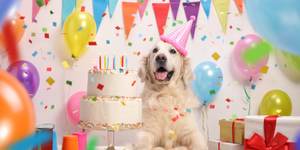 Here at Petwell Supply, we know you love to celebrate your pets. Whether that be a birthday, a gotcha day, or even just for being the best pet you could ask for. So, we have products made just for those special occasions so your pet can feel like the life of the party!
Grab some super fun matching party attire for you and your pet with the Huxley & Kent Dog party hats. They come in both small and large dog sizes so any dog can be a part of the party fun. Choose between either stars or unicorns to make any party stellar! 
We also have some adorable accessories for your furry friend. Find matching Worthy Dog bowties and bandanas in the dozens of colors and patterns we carry in-store. Dress your pet super snazzy for their special day!
How about a toy? We've got a few birthday-themed toys just for your dog's big day. Try out our Multipet Musical Birthday Cake, the HuggleHounds Birthday Cupcake, or the Jax & Bones Birthday Gift. Just you wait to see how happy your pup will be with their very own birthday present they can chew to their hearts delight.
Now, for your pet's favorite part of the day, party treats! There are a lot of options in the store for tasty snacks. Try out the Puppy Cake Mix or the Puppy Scoops Ice Cream created especially for your dog and super easy to make! Just add the allotted ingredients and viola! You've got a tasty treat for the special occasion. We also carry pre-made cakes and cookies made specifically for your pups and decorated to match the occasion.
If you're thinking of a more low-key celebration, check out all of our other products! Grab a tasty snack pack from our bulk bin mix and match the treat bar. Or try any toy from the Jax & Bones rope toys to Nina Ottoson Puzzle Toys. Splurge on super tasty high value treats like freeze dried minnows or even pig's ears! Treat your dog with anything they could dream of for their special day, shop in store or online for free local delivery.