Keeping your dog warm
Keeping your dog warm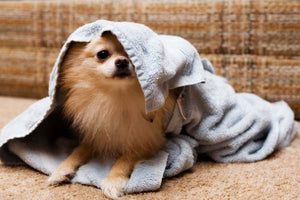 Even during the coldest months, our furry friends need to go outside for a number of reasons. So we need to prepare them for the cold weather the best we can!
Just like us, our dogs can wear coats and boots to stay warm. Not all dogs like to be dressed up, but if your dog will tolerate it, we carry two types of Kurgo jackets: The Loft Jacket & The North Country Jacket. If you need help fitting your dog, just bring them over to the store and we can help find the coat for them!
Dogs can also wear boots! Boots are great because they will protect your dog's paws from not only the cold, but also from snow and salt. We carry PawZ rubber dog boots that are waterproof and reusable. We have small, medium and large and they have a handy sizing chart on the back for your dog.
Other than the cold weather, the salt that comes after the snow can hurt our little doggies! Salt is toxic for their paws and thus can cause paw infections. If your dog won't wear booties, we recommend giving your dog a paw bath after going outside. It's as easy as placing your dog in a small tub of lukewarm water, the water doesn't have to go any higher than their paws.
Now you've learned the basics of protecting your dog from the elements of cold weather! But even with coats and booties, it's nice to towel your dog off after a walk. And if your dog allows you, you can give them a light blow dry with a hair dryer so they can be warm!
The most important thing, now you can snuggle up with your dog and be warm and comfortable!