Pet Food Drive for Project Soup
Pet Food Drive for Project Soup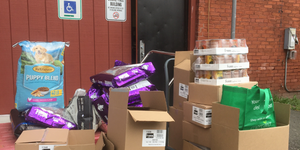 Petwell Supply is holding our second annual pet food drive this month. If you want to participate, you can donate money on our site, which we will use to purchase dog and cat food at cost, for donation to Project Soup. We will also be matching all donations up to $500.
We'll be taking donations via our website until July 31st, and making our delivery in early August.
After you finalize your donation, you will be added to an email list and will receive updates about our donation progress.
Donate here!