Petwell Supply Closing April 16th
Petwell Supply Closing April 16th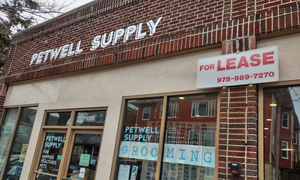 As some of you know, during the pandemic I came to the realization that I wanted to make a shift in my career, and began the process of looking for a buyer for Petwell Supply. Today I am writing to share the news that despite my best efforts to finalize a sale over the last year, I was unsuccessful, and the store will be closing on April 16th.
While our physical location on Highland Ave will be closing on April 16th, we will continue to sell your favorite pet products on our website post-closure, and our groomer, Rosie, will continue grooming our clients at a table we have rented for her at Dogwood Cottage in Melrose (just a quick ten minute drive from the store). 
Here's what you can expect over the coming weeks (and beyond):
The store will continue to operate during our regular business hours through April 16th with full grooming capabilities and product sales. 
The last day to place special orders for food will be on March 14th. After that, we will stop all distributor orders and focus on selling our remaining inventory, and we hope you'll take the opportunity to stock up on your pup's favorites before we run out! 
After April 16th, all grooming services will continue to be performed by Rosie (and facilitated by our Petwell Supply team) at Dogwood Cottage in Melrose. We will be up and running the week of April 25th in Melrose, and you can continue to book your appointments on our website. Our current retail assistant, Stella, will be staying on board remotely to assist with managing our grooming schedule and paperwork, and all bookings can continue to be made on our website, as usual, or via email (info@petwellsupply.com), as we will no longer have a direct phone line associated with the business after April 16th.
Please note: Dogwood Cottage does not have direct access to Rosie's schedule and will not be able to assist you with scheduling. The only way to schedule an appointment with Rosie after we close is through our website or via email (info@petwellsupply.com).
We are still working through all the finer details of what the future of Petwell Supply looks like, and we hope you'll stick with us for your grooming and pet product needs. The best way to stay in touch and learn about what we're up to is by following us on instagram, facebook, and by subscribing to our newsletter. 

I look forward to reminiscing with you and sharing some reflections over the next few weeks, but I needed to share this important news first. We'll be posting more logistical updates shortly, as well as some fun updates, including how to get your paws on your pup's polaroids that we've taken over the years, so stay tuned! Thank you all for your support over the past 4 years, and during this bittersweet transition.