DIY Puppy Teething Toy in a Pinch
DIY Puppy Teething Toy in a Pinch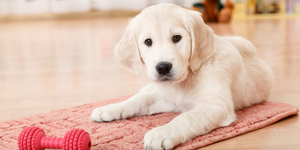 Sometimes, leaving the house is such a chore.  Especially on rainy days, or even when you aren't feeling your best and want to stay inside.  But, you have a puppy; there is no such thing as taking it easy in these early months.  Below is a super easy and fun DIY project to keep your puppy busy (and you, sane.)
Is your puppy in a shark-mode chewing phase?  That little guy's teeth are probably in pain due to his rapid growth - and dogs grow incredibly fast! 
A super-easy project includes the use of a small towel, and some drinking water!
First, you soak your small towel in some water, twist it with your hands (leave the towel damp!  This is important), and put your soaked towel in the freezer for a few hours.
Is it really that easy, you may be wondering?  The answer is simply, yes.
The Frozen Wet Towel DIY project is a safe way for your teething pup to direct their shark-like tendencies in a more constructive way, while also relieving the teething-pain puppies go through. 
Here at Petwell Supply, we do carry a similar product, the
Chilly Bone
!
  This product essentially operates the same as a frozen towel, but is more equipped to handle a dog's chewing.  Also, it is Vanilla flavored!  The Chilly Bone is useful for both teething puppies, and adult dogs in the hot summer months! 

We also carry Jax & Bones Rope Toys, which operate the same as both methods listed above.  These toys come in many different variations and sizes, and can be soaked in water and then frozen.