Our Top Selling Puppy Supplies
Our Top Selling Puppy Supplies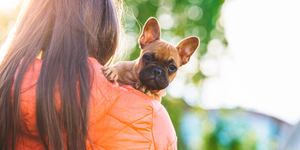 What's cute, floppy, and will chew up all of your shoes? Puppies! Puppies make an awesome addition to any household. Whether you're looking for a loyal companion or an adorable buddy to bring you joy, adding a puppy to your home will make you wonder how you could have ever lived without one. 
We help a lot of puppy parents pick out all the best gear, food, toys, and treats to make sure their pup's first few months are happy and healthy. At Petwell Supply, we have all of the supplies to satisfy every puppy need.
If you're welcoming a puppy to your home, here are some things you'll want to think about and stock up on before your pup arrives: 
1. Food
Puppies need a special diet, just like any developing animal, so having specific puppy food is a must. In general, a puppy's diet should be higher in fat to help brain development. Once your dog reaches 70%-80% of its predicted weight it can transition to an adult diet. (If you're not sure about when to make this transition, be sure to check in with your vet!) We carry a few different kinds of puppy-specific foods at Petwell Supply, each loaded with essential nutrients for a growing dog. Check out all our puppy food here.
2. Toys
Puppies have lots of energy, and we've got a variety of toys to keep them stimulated. We recommend puppy parents take home a few different types of toys to start, including: a heavy-duty Ruffwear toy, a rope toy, and an interactive toy. This will be a great base to add from as your discover your pup's unique tastes and preferences in toys. Check out all our puppy toys here.
Getting a puppy also means spoiling them, because who can resist a face that cute? While puppies technically can eat almost any treat or bone, we have specific recommendations based on what we've seen work best for our customers. First and foremost, you'll want to go home with training treats, which are smaller and lower in calories, making them the perfect treat to train with. If you're looking for the perfect chew to keep them occupied while teething, we have several options, including: no hide bones, stuffed shin bones, chilly bones, and puppy teething Kongs. Check out all our puppy treats & bones here.
4. Supplies
A new dog means a lot of training, whether that be simple potty training, or teaching them awesome new tricks. We carry lots of different training supplies like treat pouches, clickers, and recall leads for outdoor practice. Have a pup suffering from separation anxiety? Try out the Smart Pet Snuggle Puppy.  Its simulated heartbeat and warmth pack will help calm your puppy as it recreates the feeling of being all snuggled up and warm next to their mom. If your dog continues to chew furniture and clothing, we also have bitter spray to help with that! Check out all our puppy supplies here
5. Gear
Every dog needs some snazzy gear. We carry the Ruffwear Front Range Harness in many different sizes and colors. Mix and match them with our Ruffwear leashes and collars. The Crag Dog leash comes with a reflective strip and can shorten up to 3.5 feet which could be beneficial during training. Or try out our corduroy Hemp leashes and collars that soften over time and are machine washable. Check out our puppy gear here
Treat your new puppy today with all of the great puppy supplies at Petwell Supply. Whether that be the full puppy package, or a tasty treat, come on by to check out all of our puppy goods and get personalized recommendations.