COVID-19 Grooming Drop-Off & Pick-Up Process
COVID-19 Grooming Drop-Off & Pick-Up Process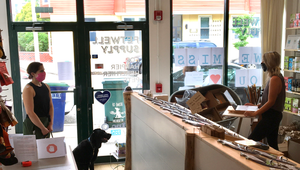 We are looking forward to welcoming you back for grooming! Please be sure to read all of our grooming policies & procedures here.
Due to COVID-19, we are following new protocols, specifically related to drop-off and pick-up. Please familiarize yourself with these procedures prior to your next appointment.
1) Arrival:  Upon arrival, if you notice another client waiting in the grooming drop off area by the front of the store, please wait outside until that client departs. Please pay attention to signage upon entering, and wait in the designated area, as you will not be permitted to enter the store fully. 
We require that the person dropping your dog off wear a mask. We will not accept your pet for grooming if you are not wearing a mask. You will be turned away and charged a cancellation fee of $50 if you arrive without a mask.
2) Speaking with the Groomer: Due to the backlog of clients we are attempting to assist at this time, you will have very limited time to cover your specific requests with our groomer. Please understand this is not personal, but is also a requirement by the state to keep indoor conversations to a minimum. Moving through these conversations quickly is also the only way we can serve everyone in a timely and, more important, safe fashion. 
3) Contactless Drop-Off
After your conversation with our groomer, you will be asked to sanitize your hands and place our slip lead over your dog's head and remove your dog's collar/harness/leash and take them with you. (This is demonstrated in the video, below.)
Cats must be brought to us in a secure carrier, which will safely be disinfected by our team before and after handling by our team.
4) Contactless Pick-Up & Payment:
We will give you a call 10-15 minutes before your dog is ready to be picked up. When you arrive, please let us know you are here, and please wait outside as we bring your dog back to the doggy pick-up zone.
We will ask you to sanitize your hands, and remove our lead and put your dog's collar and leash back on. Our groomer will cover any relevant information about your dog's visit at this time. You will also be able to schedule your next appointment and make purchases within the store (we will grab what you need). 
Our team will calculate your total from a safe distance, and will be able to add a tip on your total for you, if you wish to leave one by credit card. We cannot accept any cash payments at this time. If you would like to bring a tip in cash, please bring money in an envelope.
Our wireless credit card reader is now installed at the front of the store, enabling a socially distant checkout experience.