Treating Your Pet's GI Issues with Natural Remedies
Treating Your Pet's GI Issues with Natural Remedies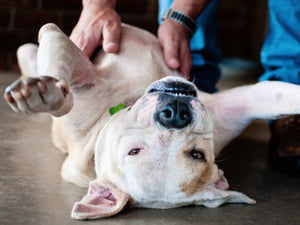 Gastrointestinal issues in dogs and cats can range from occasional upsets to more serious, chronic issues. Common GI issues include:
Diarrhea
Constipation
Gas
Vomiting shortly after eating
Hairballs (cats only)
These issues may be caused by any number of things but are most likely related your pet's diet or behavior. For instance, stool issues could mean that your pet may have a food allergy or just simply isn't getting enough fiber in their diet. Vomiting shortly after eating is a common problem for pets who eat too quickly, so getting a slow feeder or puzzle toy may help.
If you feel that your pet's GI issues are related to a food allergy, having some allergy testing done at your vet, or with an at-home diagnostic kit could help you avoid allergens that are causing GI upset. We carry the Allergy Test My Pet kit, which is a saliva test that tests for over 200 allergens.
Sometimes, however, dogs and cats just have sensitive stomachs. If your pet suffers from a sensitive stomach in general, it's always great to provide some daily fiber as well as a probiotics/prebiotic blend with enzymes.
We carry two types of fiber that are great for firming stools and regulating bowel movements:
Fruitables Pumpkin: This blend of pumpkin and ginger supports healthy stools and general tummy upsets.
Azmira Natur Fiber:  A blend of apple fiber and other all-natural ingredients, this supplement is great for regulating stools and hairballs.
The probiotic we recommend for all dogs and cats, especially those with sensitive stomachs is the Wholistic Pet Organics Digest-all. This blend of probiotics helps to restore enzymes needed for healthy digestion, making it a great supplement to avoid long-term GI problems for any pet.
Other great all-natural supplements for regular maintenance include:
Wondercide's Neem Bark Powder: Neem bark is an all-natural superfood that is known to have powerful detoxifying effects by naturally repelling parasites and tapeworms to support your pet's overall GI and immune health.
Digestive Woes Flower Essence: A great supplement for chronic issues, this flower essence supports overall digestive health and related organs by aiding the flow of your pet's digestive system.
Earth Animal Healthy Digestion: This powdered supplement provides everyday support for a healthy gut flora and pH balance.
Herbsmith Gastrocare: This herbal blend is great for pets who have generally sensitive tummies, especially those who have special dietary needs.
For recommendations specific to your pet's issues, feel free to reach out to us at info@petwellsupply.com for tailored help selecting products. 
For a sudden onset of gas or stool issues, we recommend:
Pet Wellbeing BM Tone-Up: This herbal blend provides overall support to your pet's GI and immune systems
Homeopet Digestive Upsets: This homeopathic remedy provides temporary relief from gas and stool issues and may be used to prevent pets from vomiting shortly after eating.
While there are a lot of great remedies available to treat various GI issues, be sure to contact your vet before giving your pet new supplements or changing their diet, in case your pet has a more serious issue that needs to be treated.
 More serious GI issues include, but not limited to:
Colitis
IBD (Inflammatory Bowel Disease)
IBS (Irritable Bowel Syndrome)
Pancreatitis
Infections
Ulcers
If you suspect that your pet may have a more serious issues, keep and eye out for these symptoms and contact your vet immediately if any of them occur:
Excessive panting/drooling (indicates nausea)
Loss of appetite
Vomiting
Inability to keep water down
Mucus in stool
Bloody stool
Black, grey, or yellow stool (may indicate an intestinal or liver problem)