What You Need to Know About Your Pet's Dental Health
What You Need to Know About Your Pet's Dental Health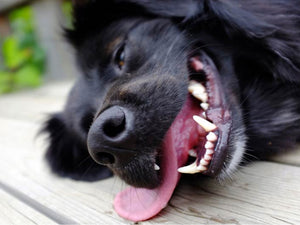 Your pet's dental health can be overlooked easily, especially if they give you trouble handling them for teeth-brushing. This is one of the main reasons that dogs and cats are at high risk for periodontal disease, a severe bacterial infection of the gums. Just like humans, daily dental care is ideal for a dog or cat. But if not daily, at least once a week can still significantly improve and maintain their dental health.
Without proper dental care, your dog or cat can develop infections that may eventually spread to their bloodstream, causing complications to their heart, liver, or kidneys. If you suspect that your pet has serious dental damage, look out for these signs:
• Swollen or bleeding gums
• Chipped or missing teeth
• Bad breath
• Excessive drooling
• Difficulty chewing or keeping food in mouth
• Loss of appetite
To make daily teeth-brushing a less intimidating and healthier process for both you and your pet, Petwell Supply recommends using
Dentasure gel
. Dentasure gel uses four powerful, all-natural ingredients that will help prevent and reverse damage to your pet's teeth and gums while freshening their breath:
1. Grapefruit Seed Extract
2. Grape Seed Extract
3. Propolis Extract
4. Pure Stevia
You can use Dentasure gel just like toothpaste; squeeze it directly onto a toothbrush or a piece of gauze that you can wrap around your finger. And if your pet just won't let the toothbrush inside their mouth, Dentasure also comes in a convenient
spray
that you can quickly spray directly into their mouth.
Or is your pet just seriously too stubborn for brushing? If brushing is not for them, we also carry all-natural
dental chews
that clean tartar from teeth and gums as they chew.
Also check out our
video
on how to make an all-natural toothpaste right at home!