How to Detox Your Dog or Cat Naturally
How to Detox Your Dog or Cat Naturally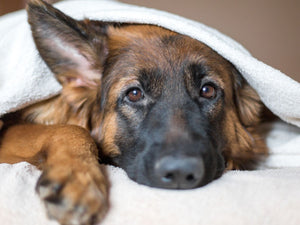 Detoxification can be very beneficial to your pet dog's or cat's overall health. It is especially helpful in healing your pet when they are injured or sick, but can also be used as an every-day remedy for maintenance of your pet's major organs to help prevent sickness and serious complications.
What is Detoxification?
Detoxification is the process of eliminating any harmful toxins from your pet's bloodstream before they reach vital organs like the kidney, liver, and skin. Toxins can enter your pet's body through food, water, prescription medications, or certain aspects of their environment, like the cleaning products in your household, for example (view our all-natural green cleaning products). When too many of these toxins enter your pet's body, they will eventually overwhelm their major organs, disallowing them to properly function in eliminating harmful waste from your pet's body. Your pet may experience GI upset, skin and coat issues, immune system issues, and in more serious cases, kidney and liver damage.
While you do not have to use detoxification remedies for your pet every day, it is not necessarily harmful to do so if your pet is in otherwise good health. Detoxes are great for pets with long-term illnesses and naturally weak immune systems. They're even great to have around in case your pet accidentally ingests something that they shouldn't. These are our favorite detoxification products:
Wondercide Bentonite Clay: Bentonite clay is a naturally occurring clay that has strong absorptive properties, making this remedy especially great for pets with GI and skin issues. It can be used both orally and topically either for everyday use or as-needed.
Azmira Blood & Lymph D'tox: This all natural, herbal extract strengthens your pet's immune response associated with catabolic waste that may lead to cancer, tumors, abnormal lymph nodes, or severe skin problems.  
Herbsmith Milk Thistle: This simple, all-natural ingredient is mainly a protectant and detoxifier for the liver. But its powerful detox properties may also provide extra support for allergies, skin health, the kidneys, pancreas, and gallbladder.