Yes, We're Open. Here's How to Shop.
Yes, We're Open. Here's How to Shop.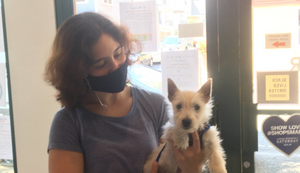 COVID-19 has changed the way everyone does business, and we are no exception! Please read below for answers to some of your most frequently asked questions:
Q: Are you open?
A: Yes, we are open, and offer two convenient ways for you to shop with us:
1) You can visit us during business hours (mask required). Unfortunately, at this time we cannot let customers fully enter the store to browse and touch merchandise, but we are more than happy to assist you from a safe distance.
2) You can order online and schedule a curbside pick-up, local delivery, or have us ship via USPS or UPS.
Q: How does curbside pick-up work?
A: Place your order on our online shop, just as you would on a regular ecommerce site. When you arrive at the checkout page, select pick-up. Once your order has been prepared, you will receive an email alerting you that your order is ready for pick-up. You are welcome to come by during our business hours and someone will grab your order for you.
Q: Is there a fee for delivery?
A: We are currently offering free delivery to all of Cambridge & Somerville, and parts of Arlington. We are only delivering on Wednesdays, so please keep that in mind when placing your order. If you place an order for delivery and decide you can't wait, you can always swing by to pick up your order during business hours.
Q: How can I help your business during this time?
A: It's been so heartwarming to see everyone in our community support their local businesses, including Petwell Supply, during this time. We appreciate how you have navigated our work-in-progress website and new policies to shop with us. Other ways you can continue to help would be by referring your friends our way! We also ship all over the country, and are happy to serve your friends near and far. If you want to send a dog or cat friend a gift, we have created our pet-o-grams (with free shipping) to do just that.